An Exciting September for the ISD Family!
– October 1, 2019 –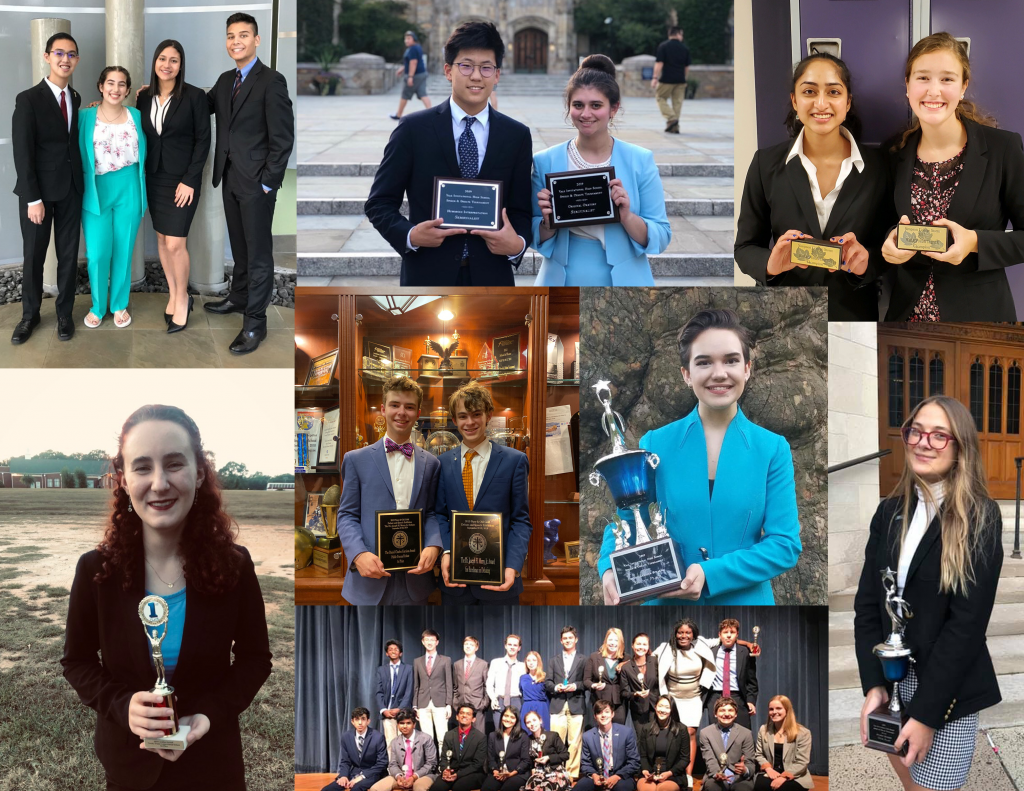 It's been an exciting month for our ISD Family! Congratulations to all of our alumni, #ISD2020 instructors, and their coaches on a tremendous month!
Some students won tournaments, some earned TOC bids, some broke for the first time, and others earned their first win or 1 – but all of them grew as speakers and debaters – and that is what is most important!
At the Yale Inviational:
In Public Forum Debate:
Acton-Boxborough (Handel) – Quarterfinalists
Ransom Everglades MG (Marcus & Gold) – Octafinalists
Durham OK (Owens & Kim) – Double-Octafinalists
Ransom Everglades TS (Tariko & Schurr) – Double-Octafinalists
Richard Montgomery GL (Guo) – Double-Octafinalists
Hawken EG (El-Kaissi & Griffin) – Double-Octafinalists
Gunn BB (I. Balakrishnan) – Double-Octafinalists
Dalton BS (Breen & Solomon) – Triple-Octafinalists
NSU AG (Arias & Gutkin) – Triple-Octafinalists
Trinity Prep HR (Huang – ISD 2020 Jr. Instructor) – Triple-Octafinalists
Durham HL (Hays & Longley) – Triple-Octafinalists
Montgomery Blair TK (Tang & Keshav) – Triple-Octafinalists
Charles Flanagan DG (De Leon & Gold) – Triple-Octafinalists
Charlotte Latin NS (Neligan & Spicer) – Triple-Octafinalists
Top Speaker – Adriana Kim – Durham Academy
4th Speaker – Ishan Balakrishnan – Gunn
6th Speaker – Andrew Owens – Durham Academy
In Congressional Debate:
Luke Tyson – Sewickley Academy – 3rd Place
Emma Sedlak – Hawken – 5th Place
Michael Evrard-Vescio – FAU – Finalist
Lewis Dubrowski – Ardrey Kell HS – Finalist
Michael Bendok – Phoenix Country Day School – Semifinalist
Reya Brahmbhatt – Ridge HS – Semifinalist
Nivedan Dharmavaram – Hillsborough HS – Semifinalist
Emily Donaldson – Durham Academy – Semifinalist
Isaac Kan – Desert Vista HS – Semifinalist
Gordon Li – Ridge HS – Semifinalist
Karim Limayem – C. Leon King HS – Semifinalist
Chris Raymond – Lake Highland Prep – Semifinalist
Amar Vyas – Hawken – Semifinalist
Angela Yan – A. W. Dreyfoos School for the Arts – Semifinalist
In Extemporaneous Speaking:
Mo Marks – Theodore Roosevelt HS – Tournament Runner-Up!
Juliette Reyes – American Heritage Plantation – 4th Place
Sam Li – Hawken – Semifinalist
Michelle Liu – Ardrey Kell HS – Quarterfinalist
Marco Munoz – A.W. Dreyfoos School for the Arts – Quarterfinalist
Krishna Sanaka – Hawken – Quarterfinalist
Shria Shyam – North Allegheny Senior HS – Quarterfinalist
Emma Pereda – NSU Univrersity School – Quarterfinalist
Dylan Jansky – Scarsdale – Octafinalist
Bhrajit Thankur – Trinity Prep – Octafinalist
Vivek Beeram – St. Mary's Hall HS – Octafinalist
Abhinav Vittal – Scarsdale HS – Octafinalist
Aditya Kalahasti – Solon – Octafinalist
Veronica Bloomberg – NSU University School – Octafinalist
In Original Oratory:
Chandini Toleti – Lake Highland Prep – Quarterfinalist
Zayn Malik – St. John's School – Quarterfinalist
In Humorous Interpretation:
Alex Lim – Cary Academy – Semifinalist
In JV Public Forum Debate:
Poly Prep ST (Tiesi) – Octafinalists
In JV Lincoln Douglas Debate:
Elaine Liu – Charlotte Latin School – TOURNAMENT CHAMPION
Casey Powell – Cary Academy – Semifinalist
Allie Chandler – Cary Academy – Quarterfinalist
Natasha Sachar – Cary Academy – Double-Octafinalist
Aadesh Anchaliya – Durham Academy – Double-Octafinalist
At the Valley Mid America Cup:
In Public Forum Debate:
Poly Prep HD (Humes) – Octafinalists
Poly Prep ML (Meyer) – Octafinalists
Poly Prep WS (Wright & Schaefer) – Octafinalists
At the Holy Cross School Navy and Old Gold Debate and Speech Exhibition:
In Public Forum Debate:
Durham OH (Owens & Hays) – TOURNAMENT CHAMPIONS
At the 31st Annual Grapevine Classic:
In Public Forum Debate:
St. Mary's Hall TS – Co-Champions – Coached by ISD Sr. Instructor Colin Malinak
Plano West YL – Co-Champiopns – Coached by ISD. Sr. Instructor Robey Holland
Plano West ZS – Semifinalists – Coached by ISD Sr. Instructor Robey Holland
Plano West HL – Quarterfinalists – Coached by ISD Sr. Instructor Robey Holland
Elkin AP (Akbar) – Octafinalists
Plano West AW – Octafinalists – Coached by ISD Sr. Instructor Robey Holland
LC Anderson FK (Foster & Karchmer) – Double-Octafinalists
Elkins HU (Hasib) – Double-Octafinalists
St. Mary's Hall PH – Double-Octafinalists – Coached by ISD Sr. Instructor Colin Malinak
In Congressional Debate:
Faizan Asif – Seven Lakes – TOURNAMENT CHAMPION – ISD 2020 Jr. Instructor
In U.S. Extemporaneous Speaking:
Sebastian Javadpoor – Semifinalist – Arizona College Prep, Erie Campus
In Foreign Extemporaneous Speaking:
Matthew McQuistion – 6th Place – Casady School
At the National Speech & Debate Season Opener hosted by UK:
In Public Forum Debate:
Fairmont Prep BR – Tournament Runners-Up – Coached by ISD Sr. Instructor Gabe Rusk
Fairmont Prep GS (Gumlia & Shin) – Semifinalists
Fairmont Prep KO (Kim & Ong) – Octafinalists
Lincoln WM (Walker & Moberly) – Octafinalists
Hawken KM (Mukunda) – Double-Octafinalists
Richard Montgomery GL (Guo) – Double-Octafinalists
Fairmont Prep JC – Double-Octafinalists – Coached by ISD Sr. Instructor Gabe Rusk
Poly Prep LM (Meyer) – Double-Octafinalists
Chagrin Falls MH (Mills & Haines) – Double-Octafinalists
Charlotte Latin NS (Neligan & Spicer) – Triple-Octafinalists
Durham SO (Owens) – Triple-Octafinalists – Alum and ISD 2020 Jr. Instructor
Cranbrook RS (Ren & Si) – Triple-Octafinalists
Fairmont Prep SS – Triple-Octafinalists – Coached by ISD Sr. Instructor Gabe Rusk
Brentwood MR (Memon) – Triple-Octafinalists
Ivy Bridge KX (Xu) – Triple-Octafinalists
Acton-Boxborough CL (Choudhury) – Triple-Octafinalists
In Congressional Debate:
Cassandra Berlin – Tournament Runner-Up – Hawken
Michael Evrard-Vescio – 3rd Place – FAU HS
Isaac Slevin – 6th Place – Evanston Township
Nathan Darmon – Finalist – Poly Prep
Jack Bukovnik – Hawken – Finalist – Coached by ISD Sr. Instructor Becca Marks
Harrison Horrell – Finalist – Evanston Township
In Extemporaneous Speaking:
Mo Marks – TOURNAMENT CHAMPION – Theodore Roosevelt HS – Alumna and ISD 2020 Jr. Instructor
Tristan Wertanzl – Tournament Runner-Up – Cypress Bay
In Original Oratory:
Cory Wurtenberger – 4th Place – Cypress Bay
In Junior Varsity Public Forum:
Potomac MP (Mu & Peng) – TOURNAMENT CHAMPIONS
Fairmont GB – Semifinalists – Coached by ISD Sr. Instructor Gabe Rusk