The ISD Family Shined while Kicking-Off the 2020-2021 Season!
– September 20, 2020 –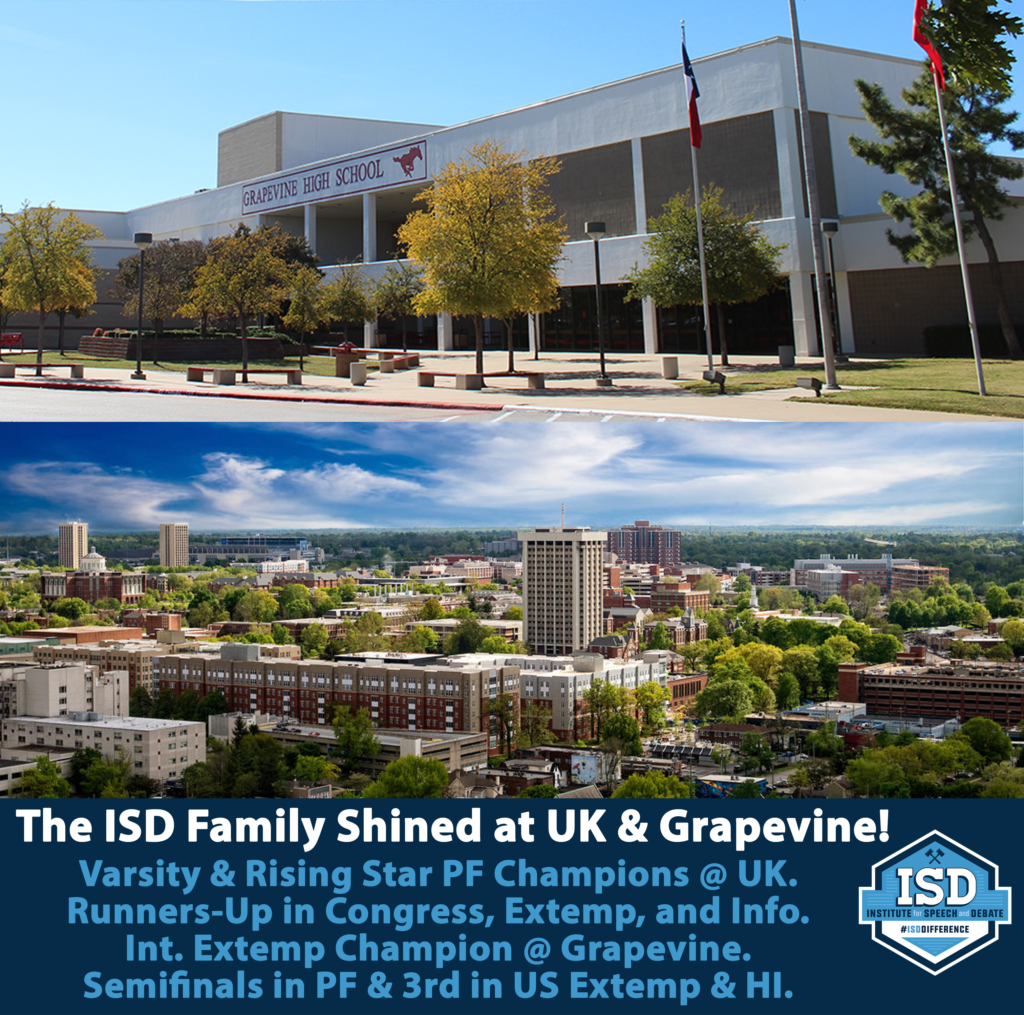 The ISD Family kicked off the 2020-2021 season this weekend at virtual tournaments around the country – and what a weekend it was! Congratulations to all of our alumni and their coaches on these fantastic accomplishments!
#ISDDifference
At the National Speech & Debate Season Opener Hosted by the University of Kentucky:
In Public Forum Debate, Varsity:
Dalton YS (Solomon) – TOURNAMENT CO-CHAMPIONS
Potomac Debate Academy AP (Peng) – TOURNAMENT CO-CHAMPIONS
NSU FR (Ronkin) – Octafinalists
Poly Prep ML (Meyer) – Double-Octafinalists
BASIS Silicon Valley AV (Vellore) – Double-Octafinalists
Durham BK (Brent-Levenstein & Kang) – Double-Octafinalists
Delbarton LT (Li & Teehan) – Double-Octafinalists
Richard Montgomery GL (Guo) – Triple-Octafinalists
A and M Consolidated DS (Satish) – Triple-Octafinalists
Poly Prep TW (Tiesi & Wright) – Triple-Octafinalists
NSU AG (Arias & Gutkin) – Triple-Octafinalists
Bethesda Chevy Chase GT (Tiefer) – Triple-Octafinalists
Providence MP (Manian & Pan) – Quadruple-Octafinalists
Poly Prep HS (Humes & Sah) – Quadruple-Octafinalists
Durham SW (Sukhija & Wallen) – Quadruple-Octafinalists
In Public Forum Debate, Rising Stars:
Newton South JR (Jones & Rafat) – TOURNAMENT CHAMPIONS
Lake Mary Prep MD (Mohring & Dervish) – Quarterfinalists
Hawken LG (Gallagher) – Double-Octafinalists
Michael Evrard-Vescio – Tournament Runner-Up
Isaac Kan – 7th Place
Cynthia Chockalingam – Semifinalist
Sami Gupta – Semifinalist
Divya Mehrotra – Semifinalist
Sophie Reynolds – Semifinalist
In Extemporaneous Speaking:
Peter Alisky – Tournament Runner-Up
Krishna Sanaka – 3rd Place
Dev Ahuja – Semifinalist
Neha Moda – Semifinalist
Molly Xiao – Semifinalist
Aditya Kalahasti – Semifinalist
Antonina Clementi – Semifinalist
Adam Stone – Tournament Runner-Up
In Lincoln-Douglas Debate:
Nidhi Sonwalkar – Double-Octafinalist
Elaine Liu – Double-Octafinalist
At the 32nd Annual Grapevine Classic:
Katherine Rollins – TOURNAMENT CHAMPION
In Public Forum Debate, Varsity:
Charles W. Flanagan DG (De Leon & Gold) – Semifinalists
LC Anders CE (Canyon & Erard) – Quarterfinalists
Edgemont MM (Masam) – Quarterfinalists
LC Anderson BD (Domsch) – Double-Octafinalists
Lake Highland Prep CP (Calderon & Patel) – Double-Octafinalists
Lovejoy CP (Carll) – Double-Octafinalists
Lake Highland Prep HK (Hasan & Kunta) – Triple-Octafinalists
Thomas S. Wootton LR (Liu & Ramesh) – Triple-Octafinalists
Winston Churchill HY (Huang) – Triple-Octafinalists
Richard Montgomery SW (Sun) – Triple-Octafinalists
Westwood FG (Freeman & Gunwani) – Triple-Octafinalists
Westwood FW (Freund & Wang) – Triple-Octafinalists
Montgomery Blair KW (Keshav) – Triple-Octafinalists
Katherine Rollins – 3rd Place
Alex Steel – Semifinalist
In JV Lincoln-Douglas Debate:
Ethan Greenberg – Octafinalist
Nicholas Gonzalez – Octafinalist
*We do our very best to ensure that these lists are accurate. If we missed your name and success this weekend, we apologize! Please let us now and we will update the list ASAP!*