A fantastic start to the 2021-2022 season for the ISD Family!
– September 21, 2021 –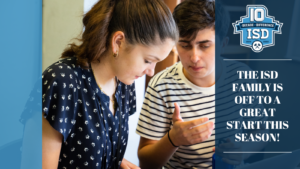 The ISD Family is off to a fantastic start this season and we're so excited to celebrate their accomplishments!
New for the 2021-2022 season, we want to give students and coaches the opportunity to share additional accomplishments (and photos!) that we might miss in these posts. If you have a result that you want to share, please submit it at tinyurl.com/ISDspotlight and we will feature you on our social media platforms as a part of our Alumni Spotlight!
Congratulations to the following students and their coaches for these fantastic results:
At the University of Kentucky Season Opener:
In Informative Speaking:
Adam Stone – Tournament Champion
Anika Parthiban – Semifinalist
In Original Oratory:
Anika Parthiban – Tournament Champion
In Public Forum Debate:
Durham WS (Wallen & Sukhija) – Tournament Champion
Edgemont MM (Masam) – Quarterfinalists
Fairmont GG (Gumlia) – Quarterfinalists
Poly Prep LS (Sah) – Octafinalists
In Public Forum Debate Rising Stars:
Nueva CG (Chiang) – Semifinalists
In Extemporaneous Speaking:
Cade Savoy – Tournament Runner-Up
Dev Ahuja – 5th Place
Vikram Sundaram – 6th Place
Chirag Choudhary – Semifinalist
In Program of Oral Interp:
Adam Stone – 5th Place
Emma Barney – 6th Place
In Lincoln-Douglas Debate:
Natasha Sarchar – Octafinalist
Ethan Nicoll – Octafinalist
In Lincoln-Douglas Debate Rising Stars:
Veer Guda – Semifinalist
At the Grapevine Classic:
In Congressional Debate:
Corina Aniceto – Tournament Champion
Anish Beeram – 3rd Place
Kaushal Ramalingam – Semifinalist
Iris Cheng – Semifinalist
In Informative Speaking:
Shriya Bhat – Tournament Champion
In Original Oratory:
Shriya Bhat – Tournament Champion
At the Yale Invitational
In Congressional Debate:
Isaac Kan – Tournament Runner-Up
Asia Crowley – 3rd Place
Pranav Garigipati – 5th Place
Anish Beeram – Semifinalist
Eston Kuwahara – Semifinalist
In Extemporaneous Speaking:
Peter Alisky – 5th Place
Vikram Sundaram – 6th Place
Dev Ahuja – Semifinalist
Michelle Park – Semifinalist
Isha Narang – Quarterfinalist
Chirag Choudhary – Quarterfinalist
Smarth Nagaraj – Quarterfinalist
In Dramatic Interp:
McKenzie Acton – Semifinalist
In Humorous Interp:
Sammie Armatas – 3rd Place
In Informative Speaking:
Adam Stone – Semifinalist
In Original Oratory:
Max Tendler – Tournament Runner-Up
In Program of Oral Interp:
Jasmine Chen – Semifinalist
In Public Forum Debate:
Ransom Everglades GM (Gold & Marcus) – Quarterfinalists
Lake Higland Prep CP (Calderon & Patel) – Octafinalists
Ransom Everglades GR (Granda-Scott & Rodriguez) – Octafinalists
In Lincoln-Douglas Debate:
Patrick Mays – Double-Octafinalist
At Greenhill:
In Lincoln-Douglas Debate:
Roberto Sosa – Double-Octafinalist